About the Jennings Revolving Fund
The fund is named in memory of Ray Jennings, PHW's dynamic president in 1973 who introduced this effective method of preservation to Winchester. Unfortunately, Mr. Jennings was aboard Eastern Airlines flight 212 on September 11, 1974, and was one of the 72 casualties. Following his death, Lou Anne Jennings requested donations be sent to PHW in lieu of flowers or gifts. This initial donation kickstarted a community-based pledge program to make his vision of a revolving fund in Winchester a reality. This funding, combined with a low interest loan from the National Trust for Historic Preservation and lines of credit from local banks, established the original corpus.
A Brief History of the Jennings Revolving Fund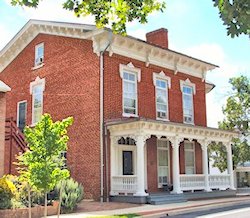 Between 1976 and 1989, PHW purchased and resold 56 properties. In this twelve-year period, the program leveraged no more than $110,000 in working capital into an estimated $2.7 million in purchases and restorations of local structures. Property assessments for these buildings increased over 300 percent during this time period.
Some of the most significant purchases of the Revolving Fund include the 23 eighteenth- and early nineteenth-century dwellings bought, resold, and renovated on Potato Hill (South Loudoun Street). Recognizing the need for low and moderate income housing, the Revolving Fund undertook a cooperative venture in 1981 with the city government to renovate eight multi-family units on South Kent Street. Two important individual purchases were the Huntsberry Building on the Loudoun Street Mall (using a second loan from the National Trust) and the Hexagon House on Amherst Street.
The Jennings Revolving Fund Properties
If you are the owner of one of the properties listed below, please contact PHW (as well as the Winchester Board of Architectural Review, if applicable) before applying exterior changes to your property. Almost all of the properties listed below are also subject to right of first refusal during sales transactions and may also require a PHW signature on the deed before closing.
Click the street address to view full sized image of the Revolving Fund property. The deed (in PDF format) and architectural description may also be available. All links will open in a new window.
Amherst Street
Baker Street
Boscawen Street
Cameron Street
Cecil Street
Clifford Street
Germain Street
East Lane
Jones Road
Kent Street
Loudoun Street
Monmouth Street
Washington Street