Who is a PHW member?
Architecture, history, environmental awareness, and community-oriented activism are some of the common interests of our membership. PHW members in general have an interest in historic buildings, architecture, preservation, or education about these topics. Many members enjoy volunteering as a docent or decorating for the Holiday House Tour. These passions are also some of the basic components of strong and effective historic preservation.
If these interests resonate with you and you are looking for a group with educational activities and fun social events, PHW might be a good organization for you to join.
What are the benefits of membership to PHW?
PHW's strength comes from the involvement and participation of people just like you!
Your yearly PHW dues entitle you to receive PHW's quarterly printed newsletter, mailed invitations to PHW's programs, free admission to the Annual Meeting and Memberfest events, and ticket discounts to the Holiday House Tour Preview Party. Members in good standing are entitled to vote at the Annual Meeting and other special membership meetings. All of our activities are often great networking opportunities to find like-minded preservationists, old house enthusiasts, and historians!
The most important benefit to joining PHW is that your dues help us to continue providing preservation assistance to the Winchester area. If you enjoy this access to the network of skilled and knowledgeable preservationists and historians, joining PHW is the best way to show your appreciation and support of our mission.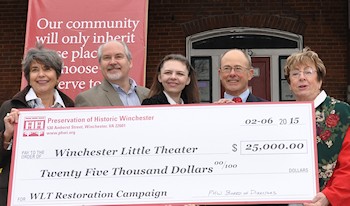 Join PHW
The PayPal subscription button sets up an automatic yearly payment on the date you first join. You may cancel your subscription at any time. If you are unsure if you are being automatically charged, you may contact PHW at (540) 667-3577 or phwinc.org@gmail.com.
If you prefer to mail a check, click here for a copy of our membership application form to return with your dues. One time credit card payments can be made in person at the PHW office or by using the PayPal Donation option.
The personal information collected in your membership forms will not be sold to other organizations or entities. If you include an email address in your membership information, we will add you to the email newsletter. From time to time you may receive correspondence or invitations to activities related to but not sponsored by PHW.
Donate
PHW is empowered to accept bequests and hold easements or covenants on historic property. Contact us for more information about easement or property donations.
In-kind donations of goods and services are also gladly accepted. We are always accepting letter and legal size paper, letter and legal file and hanging folders, and other office supply materials. We also would be happy to accept any unwanted older Winchester city directories, which can be useful to our property researching toolkit.
PHW is accepting donations for a scholarship for local students in memory of Sherry Lynn Bosley. She passed away unexpectedly on September 27, 2019 after volunteering behind the scenes for fourteen years. Her volunteerism and desire to continue to learn and expand her skills via her work with PHW as well as her bright and optimistic personality will be greatly missed.
To honor her memory and legacy, the PHW board approved a working outline to endow a scholarship in her memory on November 11, 2019. The aim is to support local students entering a major/program of study related to history, cultural resource management, or tourism and hospitality who are likely to complete their studies and further the mission statement of PHW.
You can make a one-time or recurring donation using the PayPal Donation option. If you would like to earmark your donation for the scholarship, please use the special instruction line on the form.